New: On the pod


Music:

Dixie Chicks – Taking The Long Way
The Wreckers – Stand Still, Look Pretty
Rik Emmett – Westwood One Live – Absolutely Tour
John5 – Songs For Sanity
Lisa Loeb – The Very Best Of
Obsession - Carnival Of Lies
Selections from Myspace Music


----------

Audiobooks:

The Ambler Warning – Robert Ludlum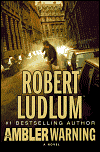 Augustan Burroughs – Possible Side Effects



----------

Quick Audiobook Review:

Ben Bova – Saturn


On the surface, it's a pretty interesting as far as Sci-fi novels go. A Theocratic government, or should I say governments, have come to power on earth. Some of the dissidents have fled to the lunar colonies but some remain. A mysterious donor has sponsored a mission to study Saturn and it looks like all of the remaining misfits are going to be on it. Below the surface, although not so far as you have to actually look, Saturn is an attack on religious fanaticism without any real ideas on how to fix it in the long term…still, it's not a bad way to pass the time.
----------
Other Stuff @ On the pod
Well, a while ago I mentioned that I was writing music for a fashion show. It's all done and actually I liked it so much that I had some CDs made up to try and schlep. If you're remotely curious about the fashion show, check out a blog that I'm also working on for it at
www.sogno-boutique.blogspot.com
.
If you want to listen to some of the music, you can go to
www.myspace.com/pseudojoe
and sample some of the over 40 minutes of music I wrote for the show. If you like it, I should be selling a few CDs at the show on June 10th and eventually at that same myspace site.
In other stuff news, I got the official On the pod.net promotional cards yesterday and they look amazing. A big thanks goes out to SuzieQ @ Signz & Dezines by SuzieQ at
http://www.suzieillustrator.com
. If you are ever in the market for a graphic designer or just someone to help you with your business cards, she comes highly recommended by On the pod.net.
As far as reviews go, I just finished one for John5's new album Songs For Sanity and I'm going to work on a group review for some of the music I've found on myspace. There are some really great musicians who have pages up at myspace music and they really are worth checking out.
You may have also noticed the Barnes & Noble links that have popped up around the site. I was looking for a way to make getting the music I was talking about easier so I wanted to link a store. I had a lot of problems with the Amazon website so I decided to use Barnes & Noble.
That's really it for now I guess, so I'll let you all get back to it.
Thanks for visiting On the pod.net
Joe